as you can tell from my sig., i like concerts. a lot. there's just no getting around them for me. if a band comes through town that i even have a passing interest in, chances are i'll fork down the money and request the day off of work. i also have random urges to write, especially after said concerts. add the fact that my camera is with me at all times and well it gets to be simple logic. this is by no means meant to be well-crafted and carefully edited work. i just want to start getting something down in text and save it for memory's sake. whenever possible, pics and (hopefully) video will accompany these things at all times. enjoy.
--------------------------------
January 18, 2006
An Albatross @ Beat Kitchen
openers: Lazer Crystal + two bands i missed
editor's note: first two bands were missed because i came straight from work. show @ 7 pm. out of work @ 7:30 pm. you do the math.
i've never been to this place before, but after tonight, i'd love nothing more than to go back. located one block west of Damen Ave. right on Belmont Ave., the venue itself is the back room of a bar with a capacity for probably no more than 150-200 people. all black walls with makeshift lighting and a slightly elevated stage (no more than 3 feet high), it's a barebones set-up but it gets the job done.
i arrived as the 2nd band was finishing their last song. as i approached the venue, i heard nothing but incoherent roars, bassy growling, and firecracker-esque double bass drums. so i was thrilled when i got in and the lead singer snarled a fast "thank you, goodnight." a quick set change brought Lazer Crystal to the stage. with only bass, drums, and an organ with a plethora of effects, they made 30 minutes of instrumental that, while a little formulaic in nature, was good for what it was. they had a heart full of electricity and rhythms that could've lasted all night long. one more set change brought An Albatross to the stage. oh what a glorious start. they fired off songs in explosive bursts. the lead singer channeled iggy pop more than anyone i've ever seen, dancing incoherently in his circle of space and making frequent use of the crowd in front of him. shredding on guitar and bass, smashing ivory with a theremin at their side, they put forth more energy in their 35-40 minute set than most seasoned bands do in a single tour. "thank you for cleansing your souls with us. goodnight." and with that comment, three of them collapsed to the floor in exhaustion while the other two scattered for another beer. an excitingly brief encore ensued minutes later and the lights came glaringly on. this was probably the best start to a year of concerts i could ask for. next please
--------------------------------
:video:
last 2 songs of An Albatross:
http://www.megaupload.com/?d=NXKL24R1
(video note: the lead singer jumps into the crowd near the beginning and rolls back to the stage over me. so the video goes vertical for a few seconds while i help ferry him onto the stage. the rest is fine, a little dark but definitely watchable)
--------------------------------
:pics: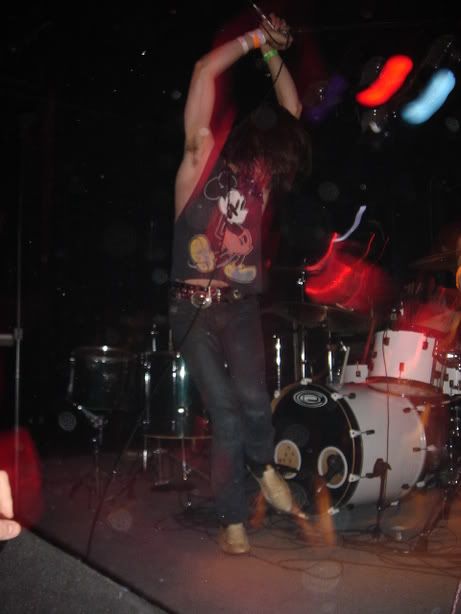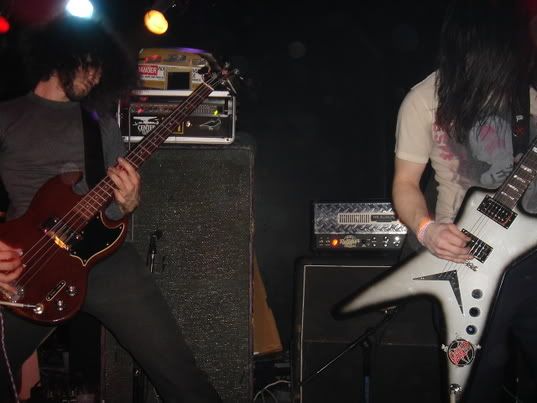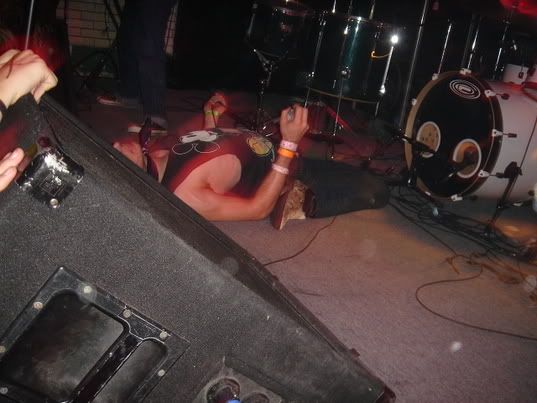 http://i14.photobuck...00/DSC02382.jpg
http://i14.photobuck...00/DSC02389.jpg
http://i14.photobuck...00/DSC02393.jpg